If You are searching for a list of all questions and answers for the LinkedIn Autodesk Fusion 360 Skill Assessment, this is the right place for You.
Autodesk Fusion 360 is a 3D CAD (Computer Aided Design) and CAM (Computer Aided Manufacturing) software program that enables you to design and create products from scratch or to modify existing ones. It is used by professional engineers, product designers, and hobbyists alike.
Fusion 360 is cloud-based, which means that you can access it from anywhere as long as you have an internet connection. It also means that updates and new features are constantly being added.
One of the best things about Fusion 360 is that it is so versatile. You can use it to create anything from a simple sketch to a fully functioning product. The software is easy to learn and use, even for beginners.
Fusion 360 also has a huge online community of users who are always willing to help out. If you get stuck, there's a good chance someone else has already come across the same issue and has posted a solution online.
Autodesk Fusion 360
Q1. How can you edit a feature?
 Select the feature, press Delete, and then create a new feature.
 Right-click the feature and select Edit Feature.
 Keep clicking Undo until the feature is gone.
 Find the feature in the browser, select Remove, and then create a new feature.
Q2. Which tool creates a plane normal to a sketch path or edge?
 Plane Through Two Edges
 Plane Along Path
 Plane at Angle
 Plane Through Three Points
Q3. Which tool measures the precise distance between two points, and creates dimensions that are parallel to the locations of objects?
 Aligned Dimension
 Linear Dimension
 Angular Dimension
 Ordinate Dimension
Q4. How many holes were used in the making of this object?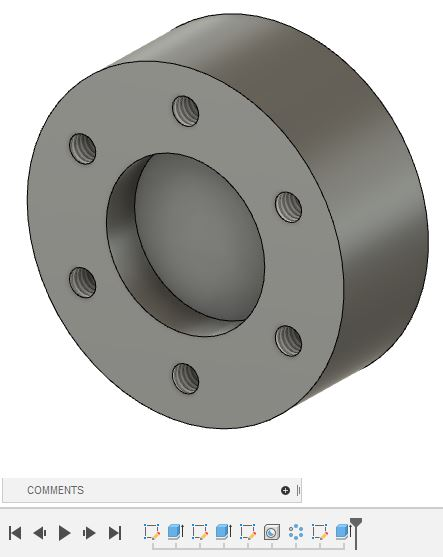 Q5. In simulation, which constraint prevents movement in a specific direction?
 frictionless
 prescribed displacement
 pin
 fixed
Q6. In the CAM workspace, which strategy removes a part's interior cavity?
 Slot
 2D Pocket
 Bore
 2D Contour
Q7. What does the Zebra Analysis tool do?
 It applies a metal render.
 It fixes bodies.
 It checks a body's continuity.
 It splits bodies apart.
Q8. Which command creates a plane at the midpoint between two faces or work planes?
 Midplane
 Plane Tangent to Face at Point
 Offset Plane
 Plane at Angle
Q9. Which hole type automatically enters a diameter value based on the type of fastener it will accomodate?
 Clearance
 Simple
 Drilled
 Through
Q10. Which workspace creates components made from thin, premade material formed into specific shapes?
 Mesh
 Simulation
 Animation
 Sheet Metal
Q11. What is required to invite other people into your project folder?
 a name
 an email address
 an IP address
 a phone number
Q12. Which tool connects two joints in a way that the motion of one joint can drive the motion of another joint?
 Drive Joints
 As-built Joint
 Motion Study
 Motion Link
Q13. Which joint type allows components to translate along two axes and rotate around a single axis?
 slider
 revolute
 planar
 pin-slot
Q14. Which view shows a drawing part at an enlarged scale?
 detail view
 section view
 base view
 projected view
Q15. Which file type is not a drawing output?
 DWG file
 CSV file
 STEP file
 PDF file
Q16. What command do you use to understand the relationship between multiple joints?
 Lock
 Animate Joint
 Animate Model
 Motion Link
Q17. What translator converts the screen toolpath into language the CNC machine understands?
 a post processor
 G-code
 NC-code
 a code processor